Google Finally Shows Us Why It Paid $3.2 Billion For Nest | TechTree.com
Google Finally Shows Us Why It Paid $3.2 Billion For Nest
Google has rolled out a developer program that allows Nest hardware to interact with third-party apps and devices.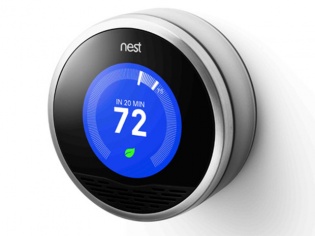 Google's purchase of smart thermostat and smoke detector manufacturer Nest for $3.2 billion sent shockwaves through the tech world. Now however Google has shown why Nest was so valuable, with an announcement that can put its devices at the centre of tomorrow's smart home.
The company has just launched a developer program that allows third-party apps and devices to talk to Nest hardware. So far any sort of device interaction isn't possible through the official Nest software, but Google is kicking off the initiative with a hoard of partners already in place.
According to Engadget, "Chamberlain's garage doors can now tell your Nest thermostat when you're home, while Mercedes-Benz lets you check the temperature at home right from your car." Further you'll be able to control the temperature via your Logitech Harmony Ultimate universal remote and Jawbone's fitness tracker can tell your Nest device when you wake up.
[See also: After Thermostats & Smoke Alarms Google Looks At Home Surveillance]
It isn't going to be just one way communications either. Nest will be able to control and talk to other devices in your house under the right conditions. For example, if Protect detects smoke, it could tell LIFX light bulbs to flash red and have IFTTT's phone app text the neighbors. Your Whirlpool washer and dryer on the other hand can be asked not to come on during peak energy consumption hours, reducing your electricity bill.
This sort of integration is only half the story however. It's almost certain that Google will link Nest's services to its own, allowing you to control your device through voice commands and sending you notifications via Google Now. Further, Google already knows where you are at all times, helping further streamline Nest's services.
For a company that was touted to be a leader in home automation, Nest is quite late in joining the party. With Google's developer program however that's all about to change and we're sure to see more third-party developers joining the fold in the future.
TAGS: Google, Nest, developer program, Home Automation