BlackBerry Upcoming 'Passport' Is A 4.5-Inch Square-Screened Oddity
Unlike other square-screened BB devices, the Passport ditches ergonomics in favour of an angular chassis.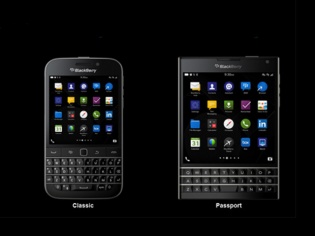 Canadian handset manufacturer BlackBerry stunned the world by reporting a better-than-expected financial performance in its latest earnings report. The other surprise came when CEO John Chen showed off BB's latest smartphone 'Passport', which is a whole new take on square-screened devices.
BlackBerry has in the past teased high-resolution square-screened devices, but the Passport is vastly different from anything expected. The phone does away with the traditional BB QWERTY phone chassis, instead flaunting an angular design which didn't look too hand-friendly.
[See also: Case Manufacturers Seem To Be Geared Up For The Rumoured BlackBerry Q30]
The highlight of the phone however is its screen, which has a diagonal size of 4.5-inches and a resolution of 1,440 x 1,440 pixels. That makes for a pixel density of 452 ppi, bringing it into the leagues of high-end smartphones from other manufacturers.
Apart from the Passport, BlackBerry also confirmed that it will launch the new Classic later this year and will be the first device to come with BB 10.3 OS. The phone will have a larger screen and will feature a home and back button bar as part of the QWERTY keypad.
TAGS: BlackBerry, Passport, Classic, BBOS 10.3, QWERTY phone