Synaptics CEO Hints At Fingerprint-Scanning Samsung Wearable In 2015 | TechTree.com
Synaptics CEO Hints At Fingerprint-Scanning Samsung Wearable In 2015
Question is, what will it be used for?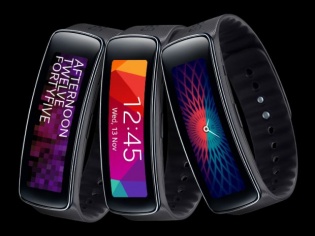 Synaptics CEO, Rick Bergman in an interview with the Taiwanese media, spoke about how fingerprint scanning is about to make a foray into smartwatches and wearables soon. The CEO hinted at a smartwatch with a curved display which is why we think he was clearly referring to Samsung's Gear Fit. Moreover, Synaptics' current client is none other than Samsung, indicating that the CEO was indeed talking about a finger-print sensing smartwatch made by Samsung.
However the big question here is the application of such technology. With Samsung recently announcing the SAMI health-monitoring platform, we are pretty sure the Koreans are up to something big. Healthcare is indeed a big industry and merging wearables with the same can lead to some really big gains for Samsung in the long run. With Samsung already having experience in healthcare, we could indeed see a SIMBAND with a fingerprint sensor; allowing for biometric identification for a quick diagnosis.
After Apple included its Touch ID system on the iPhone 5s, manufacturers like Samsung and HTC quickly hopped on board to include the same without even figuring out why they wanted one in the first place. HTC's implementation with the One Max was a clear cut disaster which simply lacked any functionality. Meanwhile, Samsung took its time and announced the same with their flagship smartphone the GALAXY S5. The Korean electronics giant clearly spent more time on the technology which has resulted in something useful like shopping with PayPal authentication, other than just unlocking your device.
TAGS: wearable, smartwatch, Samsung