Images Of Amazon's Upcoming 3D Smartphone Reveal Its Final Design
The phone is expected to be launched next month and could come with Amazon's 'Prime Data'.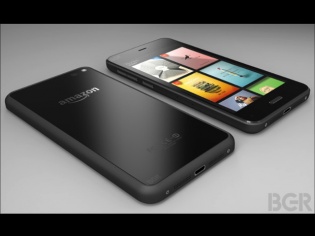 Amazon is all set to turn the world of smartphones up on its head with a device that sports a unique 3D interface and supports gesture based controls. We were earlier treated to a few leaked images of the device cloaked in a protective sheath, but now BGR has a few photos showing off the final design of the device.
The speculated launch of Amazon's very first phone is expected to happen in little over a month's time. Apart from sporting some 3D wizardry, one of the other major selling points of the phone will be Amazon Prime Data. According to BGR, the company will offer a wireless data plan alongside its first smartphone, a secret weapon of sorts.
While Amazon's upcoming smartphone does indeed looks sleek, it's design isn't anything to write home about. The smartphone is typically Amazon, and fits in well with the company's 'Fire' range of tablets. As reported earlier, the phone will come with six cameras - four located on the periphery of the screen for 3D tracking, a front facing camera, and a primary rear camera.
The image above was created by graphic designers at the company for internal use. The phone will come with a 4.7-inch screen, but as sources have said it is a bit large, but in no way uncomfortable for single-handed use. Even the gesture controls were designed keeping single-handed use in mind.
In terms of software, the phone will run a highly customised version of Google's Android, built on the Android Open Source Project. It will be similar to what we've seen on Amazon's Kindle Fire range of tablets, and apps will be available on the company's own mobile app store.
A phone from Amazon is a no-brainer for the company, becoming a front for selling products and gathering hoards of user data. Despite the phone being packed with sensors and novel software, it should be price competitive with other smartphones given that Amazon doesn't make a profit on selling devices.
TAGS: Mobile Phones, Amazon, 3D Smartphone, Kindle Fire, 3D gesture control