More Details (And Photos) Of Amazon's Upcoming 3D Smartphone Leak
The alleged images do suggest that the phone uses multiple cameras to render 3D visuals on the screen.
Smartphones from online retail giant Amazon have been in the pipeline for years now, but the wait my be soon coming to an end if recent rumours and leaks are to be believed.
Recently the Wall Street Journal reported that Amazon's first smartphone will be unveiled in June this year, and will go on sale in the third quarter. Now thanks to BGR, we get to see images of the alleged smartphone, confirming the multi camera setup that will make for a glassless 3D experience.
According to BGR, the phone will have a total of six cameras – one primary (13MP) imaging camera on the back, one secondary front facing camera, and four other low-power infrared cameras situated at the four corners of the screen.

The device's extra cameras supposedly track the position of the user's face and eyes in relation to the display. This allows Amazon's software to make constant adjustments to the on-screen elements, altering the perspective of visuals on the screen. The end result of this trickery should make for a 3D experience without the use of any special glasses, no matter which angle the user views the screen from.
Apart from the plethora of cameras, the device will come with a 4.7-inch display featuring a resolution of 720p rather than the 1080p resolution many flagship smartphones now come with. Powering the device will be an unnamed Qualcomm Snapdragon processor and 2GB of RAM. The phone will run a heavily customised version of Google's Android, similar to the one that powers Amazon's Kindle Fire tablets.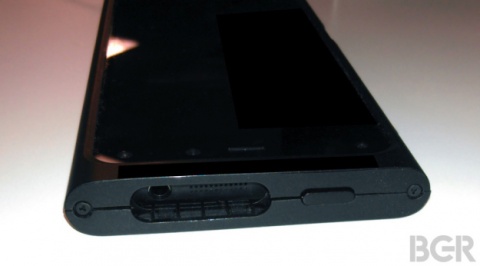 With the most novel aspect of the phone being the 3D software interface, Amazon has supposedly tried to use the technology in as many areas as possible. Starting right from the lockscreen, the phone will come with several wallpapers with perspectives that shift when the user tilts the screen in any orientation.
Apart from this even app icons will have a 3D effect, as will core user interface elements. In the WSJ report, Amazon is already approaching third-party developers to make use of the feature in their apps and games. Amazon itself will make its various digital stores 3D compatible, allowing users to view product images in 3D.
BGR adds that the phone displayed in the images wears a sort of case that is meant to ward off prying eyes from the final design of the device. Moreover, this is just one of many smartphones that Amazon is currently working on, and another more entry-level device could be launched in the months following the launch of the 3D smartphone.
TAGS: Mobile Phones, Open Source Android, Amazon, 3D Smartphone, Qualcomm Snapdragon