ASUS Eee PC X101 Goes Retail | TechTree.com
ASUS Eee PC X101 Goes Retail
Becomes the cheapest netbook in the market.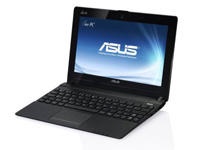 ASUS has finally outed the Eee PC X101, which is cheaper than most smartphones. This Atom-based netbook should be fit for light computing, such as writing articles. Priced at $200 (Rs 9000 approx), it's something that the underpaid authors at Team TechTree can afford. This netbook sports a 10.1" screen with pixel dimensions of 1024x600. It runs on a 1.33 GHz Intel Atom N435 single-core CPU, coupled with a gigabyte of RAM. Other specs include Wi-Fi, Bluetooth 3.0, 8 GB SSD storage, an SD card slot, 2 USB ports, and a 3-cell battery. The device measures 10.3" (l) x 7.1" (w) x 0.7" (d) and weighs about 0.9 kg. To keep costs down, ASUS has shipped the product without Microsoft's Windows OS. Hopefully, the onboard MeeGo will cater to the basic needs of netbook users.

The Eee PC X101 can be ordered for $200 by clicking this link, with an additional shipping cost of $60 (approx Rs 3300) to India. However, there's no word on the Indian release date (if at all) as yet.