Google Nexus 5 Sells Like Hotcakes | TechTree.com
Google Nexus 5 Sells Like Hotcakes
Apple, this is how you should have sold the iPhone 5C.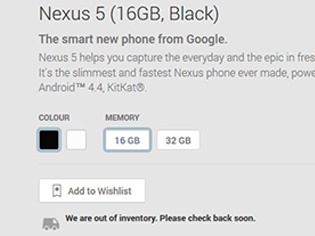 The high-end LG Google Nexus 5 has been selling like hotcakes in India apparently; so much so that despite the official price tag being Rs 29,000, it is still selling for Rs 32,000 (16GB) in the grey market, as soon as they go out of stock on Play Store India. Apple, this is the way you should be selling iPhone 5C, not with ridiculous prices and hare-brained exchange schemes.
The Nexus 5 does have a lot of things going for it, mainly the high-end hardware with mainstream pricing, however, there are niggling audio issues with the device which shouldn't be the case in this day and age. And this is what LG and Google can certainly learn from Apple.
Angry users have been complaining in Google's product forums regarding "Low Input Volume (gain) using Headsets w/ Inline Mics", while Information Week confirms the issue with their tests and has listed workarounds. Thankfully Google is aware of this issue and has promised to fix it as soon as possible.
TAGS: Nexus, Google, Apple, smartphones, Mobile Phones