CES 2012: Sony Shows Off 55" Crystal LED Display
Sports 6 million LEDs; claims to consume less power and offers better picture quality.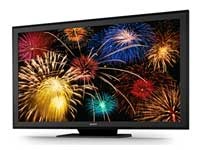 At CES 2012, Sony announced its next generation 55" Crystal LED Display. It claims to be the industry's first self-emitting display that uses LEDs as the pixels. The company has apparently used an array of six million LEDs to create this Full-HD display using Sony's unique method of mounting LEDs in Red-Blue-Green (RGB) colours throughout the display.

Mounting the RGB LED light source in front of the display results in a faster response time, wider viewing angles, and higher contrast ratio in any ambience, while keeping the power consumption to as low as 70 W. The new Crystal LED Display is capable of beating existing LCD display with a 3.5-time higher contrast ratio, 10-time faster video response, and 1.4-time wider colour gamut (as compared to current Sony models). Sony is currently developing and commercializing OLED displays and now looks like they will also work on bringing Crystal LED Displays to the consumer market.