Russians Take The Olympic Torch To Space | TechTree.com
Russians Take The Olympic Torch To Space
The torch embarked on a 5-hour 50-minute journey on the International Space Station.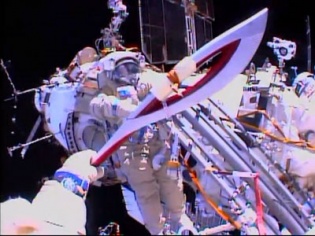 As Indians are sending their Diwali rockets to Mars (read Mangalyaan), two Russian astronauts performed a rare spacewalk with the Olympic torch on the ISS, along with other important things.
NASA posted on its site: "Two Russian cosmonauts clad in Orlan spacesuits conducted an out-of-this-world hand-off of the Olympic torch at the start of Saturday's 5-hour, 50-minute spacewalk to perform maintenance on the International Space Station.
Expedition 37 Flight Engineers Oleg Kotov and Sergey Ryazanskiy opened the hatch to the Pirs docking compartment at 9:34 a.m. EST and floated outside to begin a photo opportunity with the unlit torch".
The symbol of the Olympic Games which aims at promoting world peace via sports, the 2014 Winter Olympic Games will happen in Sochi, Russia. The opening ceremony is scheduled on 7th February, and the flame will now make its way around the world before heading over to Russia.
The torch, as NASA explains, arrived on the ISS on 7th November via "a Soyuz spacecraft carrying three new crew members". The torch will continue its journey on Earth's soil as it will land through another Soyuz spacecraft on 11th November".
Looks like Russia wants to make a bigger impact than its Chinese counterparts, given that Olympics 2008 has been the best in recent public memory. We'll have to wait and watch to see if they succeed. In the meanwhile, check out NASA's video of the spacewalk below: