Votes Up: Chrome Is The Most Popular Mobile Web Browser | TechTree.com
Votes Up: Chrome Is The Most Popular Mobile Web Browser
Trumps Opera, Firefox by a huge margin on the mobile platform.
Move over Opera, users these days seem to be turning their loyalties to Chrome as their primary choice of mobile browser. Our recently-concluded poll gives Google's home-brewed browser a windfall victory over the ever-so-popular Opera family of mobile browsers. Firefox came in at a close third. Considering that only 6% of our readers use Safari, looks like not too many use iDevices on the fly.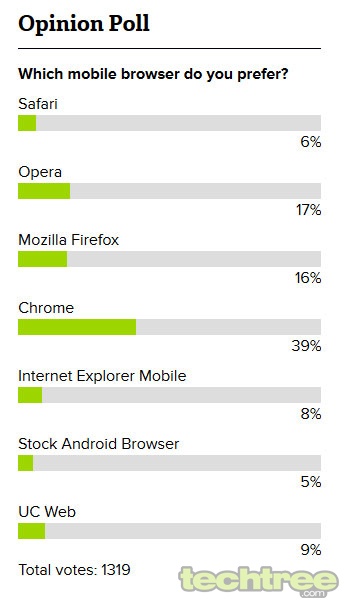 This is quite an interesting outcome, since Chrome hasn't really been in the limelight for the right reasons. Recently, a report claims that Chrome saves sensitive user data in plain text, what's more baffling is that this has been around since version 2 of the desktop browser. And adding to that since version 25 on Android, the browser is synced to its desktop engine, effectively doubling privacy concerns due to lax security. However, iOS users can breathe easy – the browser isn't as deeply seeded inside the platform, and hence is a bit safer.
Opera, which once enjoyed unchallenged success on the feature phone platform thanks to its data compression engine, seems to have lost out on its strong hold. On the Android platform alone, the company offers four variants to pick from. Maybe too many choices are acting as detractors.
Finally, Firefox seems to be catching up quite well. With the help of smartphones running the Firefox platform, this gap will bridge in the near future.
However, that Internet Explorer hasn't enjoyed that pace yet. In our last poll, despite user affection for Lumia handsets, IE still has a lot of baggage to lose, if it wants to stay in the game.