Votes Up: Samsung GALAXY Note 3 Is India's Most Desirable Premium Phone | TechTree.com
Votes Up: Samsung GALAXY Note 3 Is India's Most Desirable Premium Phone
Nokia's Lumia 1020 surprisingly puts up a fierce competition.
With the Diwali shopping season behind us, gadget purchases will not really slow down. Especially where smartphones are concerned, considering how every month you have a new flagship to pick from. Leaving the OS war, and repository battles far behind, we asked our readers what smartphone they yearn to own. And the outcome does have its share of surprises.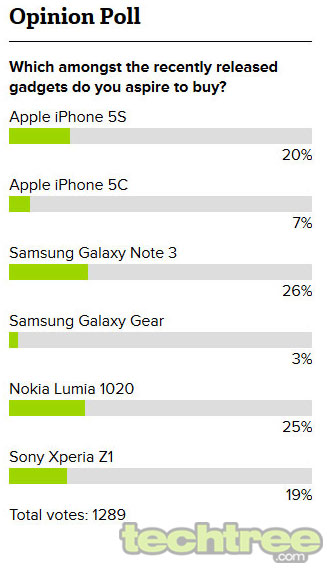 Samsung still seems to be a clear favourite — with its Note 3, the brand still seems to enjoy a steady loyalty from Fandroids. That said, its wearable smartwatch accessory, the GALAXY gear, priced at a staggering Rs 23,000 doesn't seem to have too many takers. It is lagged at the base of the pit with a measly 3% of the total votes. Check out our unplugged preview for the GALAXY Note 3 here and the GALAXY Gear here.
Apple's not-so-innovative wonder, the iPhone 5S and the 5C together managed 27% (which makes it a winner, had it not been for the distribution of votes), hasn't really made the best use of its fanboy base. However, the final sales figures may (or may not) tell a different story. See the launch analysis here.
But the surprise tortoise that almost won the race has been Nokia's latest "wonderphone". The Lumia 1020 boasts of a 41 megapixel sensor, and runs on the Windows Phone 8 platform. While it has managed to wow digital photography lovers and critics alike, how well it performs in the real world remains to be seen. In the meanwhile you can read out first impression on the handset here.
TAGS: Mobile Phones, Samsung, Nokia, Apple, GALAXY, iPhone, Lumia