Reliance Offers iPhone 5s And iPhone 5c For Free On A Two Year Contract | TechTree.com
Reliance Offers iPhone 5s And iPhone 5c For Free On A Two Year Contract
Monthly fees start from Rs 2600.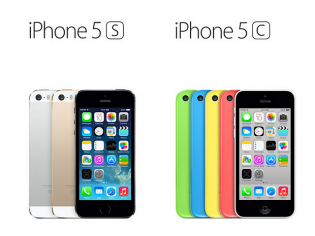 Reliance has come up with an interesting scheme to attract the iPhone-loving crowd. The network operator is offering both the iPhone 5s (16 GB) and 5c (16 GB) for free under a 24-month contract. Under this offer you'll be charged Rs 2999 per month for iPhone 5s and 2599 for its colourful sibling. This amount includes the handset cost, unlimited local and STD calls, SMS, national roaming, and 3G data. So basically, you won't have to pay anything for your phone usage, save for the International calls and roaming. You don't even have to make any down payment on 16 GB version of the phones.

So is this a good deal? Well, in iPhone 5s's case you're paying Rs 71,976 (monthly fees 2999 x 24 months). Since the iPhone 5s costs Rs 53,500 without the contract, you end up spending Rs 769 on your monthly phone usage. Now if you talk and use data a lot, paying less than 800 rupees for unlimited data and calls is an excellent deal. On the other hand, if you're a miser like me, whose bill never go north of Rs 250, it makes better sense to buy the phone off contract.

The operator also has offers on 32 and 64 GB models. However, you'll have to pay up-front charges starting from Rs 10,992. The offer break-down provided by Reliance has been posted below.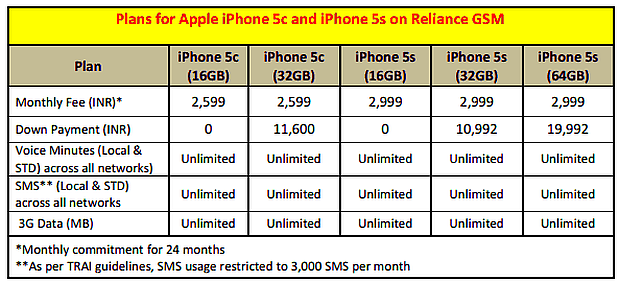 Strange, but the down payment of the iPhone 5c (32 GB) is more than that of the iPhone 5s!
If you're planning to buy either of the new iPhones, do check-out our iPhone 5s and 5c comparison article. Also, click here to watch the hands-on video of the 5s, and here for the 5c.
TAGS: Mobile Phones, Apple, iPhone, Telecom, Reliance