Nokia Adds Three New Ashas To Its Lineup | TechTree.com
Nokia Adds Three New Ashas To Its Lineup
The Asha 500, 502, and 503 will all come in dual-SIM versions; expected to begin retailing by year end.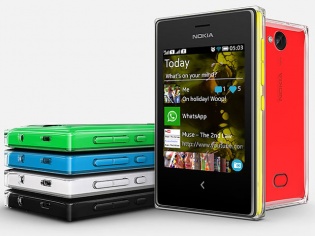 Yesterday Nokia India unveiled a new offer to push users to its Asha 501 handset. Today, the company announced three new dual-SIM additions on the line up, all running on the Asha Platform. True to its traditions, these three handsets — the Asha 500, 502, and 503 will sport polycarbonate bodies in a variety of hues. These include black, white, cyan, red, yellow, and green.
The 2G compliant Asha 500 packs in a 2.8" screen and 2 megapixel camera. The Asha 502 (2G-based, again) sports a 3" screen and a 5 megapixel snapper with flash. The 503 is the premium handset of the lot — it boasts of a 3" screen with a curved Gorilla Glass, 5 megapixel camera with flash, and supports 3.5G speeds. The 500 and 503 will come in single and dual-SIM versions; the 502 is a dual-SIM only phone.

Another interesting announcement is the integration of WhatsApp that makes its debut on the new OS. The app is also available for Asha 501 users starting today. All three phones will be touch-based and will offer all features as demonstrated on the Asha 501 which has been launched earlier this year. Other new additions include better camera support and new imaging apps including Picfeed, Pictag and Photofunia. Existing Asha 501 users will receive OS updates OTA; and new handsets are expected to ship with the latest version of the software.
The three new handsets will come to Indian markets by end of the year — the Nokia Asha 500 will cost $69 (Rs 4260); the Asha 502 at $89 (Rs 5490), and the Asha 503 is worth $99 (Rs 6110). Click the product names about for more details.
TAGS: Mobile Phones, Multi-SIM, Asha, Nokia