Sony's Smartphone Lens-Camera Kicks Nokia Lumia 1020's Ass | TechTree.com
Sony's Smartphone Lens-Camera Kicks Nokia Lumia 1020's Ass
Take that, not once but twice, Lumia 1020.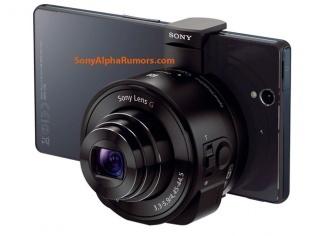 Looks like Sony is betting their Mony, not on new smartphones crammed with piddly cameras (that means you too Nokia Lumia 1020), but actual cameras slapped on to smartphones themselves.
What was believed to rumour before, Sony will launch (Sept 4th) their "attachable camera lens" for all smartphones as an upgrade for the in-built camera. The innovative technology is called Smart Shot, which would come in two variants: DSC-QX100 and DSC-QX10.

These little wonders will have "Lens based Image Stabilisation" in-built and are set to be compatible with all Androids and iOS devices via Wi-Fi/NFC. Additionally, they will have the same sensor (1/2.3 inch) as Sony's point and shoot cameras. However, unlike most point and shoot offerings, these puppies can shoot 1080p/30 fps video in MP4 format. The QX-10 will supposedly cost $250 (Rs 16,500 approximately) and X100 for $450 (Rs 29,500 approximately), which will also feature 3.6x optical zoom. Check out SonyAlphaRumors.com for more details.
The smartphone camera segment has certainly started to look very interesting, we just wish that battery technology would catch up faster.
TAGS: smartphones, Mobile Phones, Cameras, Mobile