Sony Shows Off Teaser For Upcoming "Flexible" VAIO | TechTree.com
Sony Shows Off Teaser For Upcoming "Flexible" VAIO
Drives the point home by using Origami.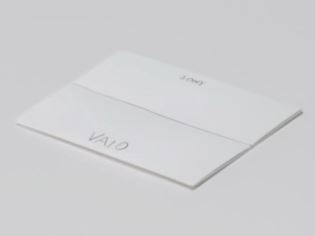 If you are asked about the most stylish product that Sony manufacturers, it would most likely be the VAIO laptop. The Japanese manufacturer has uploaded a new video on its official YouTube channel, where it teases the upcoming VAIO PC. The clip shows a paper sheet being folded in basic origami style, depicting various laptop form factors available today. The first form factor is that of a normal laptop, and then it depicts a flip-around lid similar to the Lenovo Ideapad Yoga. The most interesting form factor is the third and the last one, where the still folded paper is laid out as a tablet and then a line is drawn, bisecting it across the length, seemingly into folding wide screen.
It may appear like the company's Tablet P with foldable dual-screen, but the teaser is about the VAIO laptop, and it clearly shows that the paper is already folded as a closed laptop, before the line is drawn across it to divide the screen. Could it be a folding laptop that the company had envisioned a few years ago using a flexible OLED screen? Sony is scheduled to make an official announcement of the new VAIO PC at IFA 2013, Berlin in early September. Until then, take a look at the video and comment your thoughts about the design.