Lenovo Launches IdeaPad Yoga 13 And IdeaPad Yoga 11 Hybrid Ultrabooks In India | TechTree.com
Lenovo Launches IdeaPad Yoga 13 And IdeaPad Yoga 11 Hybrid Ultrabooks In India
Lenovo's latest command a rather high price.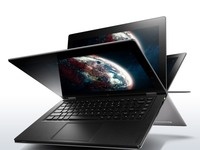 Lenovo today introduced two new models to its Windows 8 device lineup — the IdeaPad Yoga 13 and 11. The devices are from the popular category called "hybrid ultrabooks". These Windows 8 devices feature a slim ultrabook design which can be converted to be used as a tablet as well.
The IdeaPad Yoga 13, has 13.3" IPS display with pixel dimensions of 900 x 1600. The IdeaPad Yoga 11 features a 11.6" display with pixel dimensions 768 x 1366. Other major differences between Yoga 13 and 11 include Windows 8 Pro v/s Windows RT and Intel Core i Series processors v/s NVIDIA Tegra 3 processor respectively. Here are the detailed specs for IdeaPad Yoga 13 and IdeaPad Yoga 11.
The IdeaPad Yoga 13 is priced at Rs 84,300 for the base variant while the IdeaPad Yoga 11 commands Rs 61,800. Lenovo's press release states that both devices will be available across India starting today.