Samsung's Next Flagship Smartphone To Feature 16 MP Cam With OIS
GALAXY Note 3 may not get optical image stabilisation.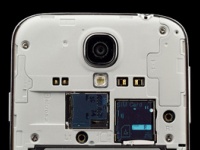 The launch of Samsung GALAXY Note 3 is imminent next week at IFA 2013. In addition to that, we can also expect some other announcements from Samsung such as the GALAXY Gear smart watch. However, we now have a new report claiming that the next flagship smartphone (GALAXY S5?) from the Korean electronics giant will sport a 16 MP rear camera. The company has already had a 16 MP camera phone with the GALAXY S4 Zoom, but that device felt like more of a camera than a smartphone with the bulk for the camera sensor and lens protruding out of the back.
The report also claims that the sensor will also be equipped with Optical Image Stabilisation (OIS), which was highly expected to be a part of the GALAXY Note 3. The idea seems to have been dropped as the South Korean company was unable to acquire the required number of units of the OIS sensors for the phablet. It would be interesting to see how Samsung crams in the camera module into the smartphone while competing with Nokia Lumia 1020 with its 41 MP camera and the upcoming Sony Xperia Z1 with its alleged 20 MP camera.