Samsung Launches Galaxy S4 Zoom — Camera With A Phone | TechTree.com
Samsung Launches Galaxy S4 Zoom — Camera With A Phone
This device is now available in India and may possibly give rise to a new product category called Phamera (pun intended).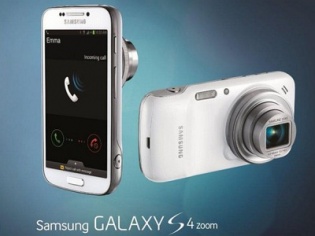 What will you get if you fuse a point and shoot camera that sports a 10X optical zoom with a smartphone? Will you end up with a smart camera with calling functionality, a smartphone with a proper camera, or some marketing mumbo-jumbo like Cam-phone or PHAMERA? Well, let's just call it the Samsung Galaxy S4 Zoom for now. And that's what the Korean giant launched in India this week.

Once upon a time, a camera on a phone was looked upon as a gimmick. However, those phone-cams evolved at such a frantic pace that before one knew it, they were almost rendering basic point and shoot cameras obsolete. The integration of social networks such as Facebook and Instagram with people's lives gave rise to a need for even better cameras on their phones — ones that could make the photos they shared instantly on these platforms look better, without having to carry a separate camera. Samsung seems to have taken this need a bit too seriously with the Galaxy S4 Zoom, to a point that the phone barely looks or feels like a phone. Yes, it does behave like one, if you can ignore it's bulk.

For starters, the Samsung Galaxy S4 Zoom has a 16 Megapixel BSI CMOS sensor, Xenon flash, and a 10X optical zoom with optical image stabilization, which makes it a proper point and shoot camera with a respectable zoom. Add to that features such as HDR, Panorama, and different capture modes, along with the capability to record 1080p (Full HD) videos. The Galaxy S4 Zoom comes with a Zoom Ring that can be used to activate the Quick Launch and Shortcut features, giving users instant access to multiple camera modes including Auto, Gallery, and Smart Mode.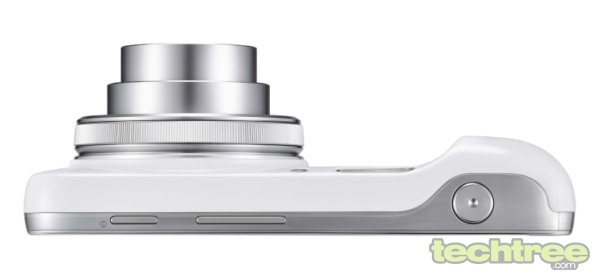 Talking of Smart Mode, it lets you choose from a series of pre-set modes. If you aren't smart enough to know which Smart Mode to select, the 'Smart Mode Suggest' feature provides a list of the best options for your consideration, based on surrounding factors such as light levels, focal length, or face detection, so that you do justice to the camera. The Drama Shot from the original Galaxy S4 makes an appearance here, along with a few other popular features. It allows the user to merge continuous shots of moving objects into a single image, while the Action Freeze feature allows users to instantly capture high-speed action.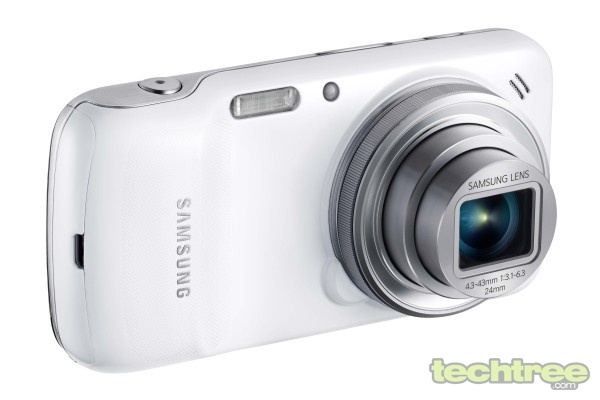 On the phone front, though it sports S4 in the name, the hardware isn't as powerful, nor does it come with all the bells and whistles that you associate with Samsung's flagship phone. Though the company did not shed light on the device's hardware, the S4 Zoom is known to have a 1.5 GHz dual-core processor, 1.5 GB RAM, and 8 GB of internal storage that can be expanded further by 64 GB using a MicroSD Card. It has a 4.3" Super AMOLED capacitive touch-screen with pixel dimensions of 960x540. It runs the latest Android 4.2 Jelly Bean OS. It doesn't lack anything on the connectivity front with all the major bases covered, namely Wi-fi, 3G, Bluetooth 4.0, USB etc.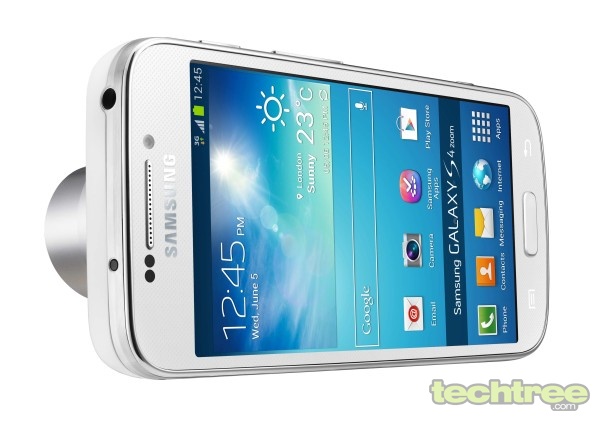 After having used the device for a few minutes, I cannot use the words compact or light for it. Though the screen is not as huge as that of the GALAXY Grand or Mega, it is it's thickness that makes it not so pocketable. Also, one tends to look a tad funny, slapping a camera to the ear, with the lens and zoom mechanism on the other side. The overall UI felt nippy and the captured images seem to have fair amount of detail. But given the less than ideal lighting at the venue, I would like to reserve my judgment about the picture quality for later once we have the device in our labs shortly. Watch out for the in-depth review of this gadget soon.

The Galaxy S4 zoom is available in white and black colours and is priced at Rs 29,900 in India. As a part of the introductory offers, you get a free Flip Cover, Interest free EMI Offer for 6 months and 2 GB 3G Data free per month for 3 months for Reliance customers.
TAGS: Mobile Phones, Cameras, Samsung, GALAXY