NVIDIA GeForce LAN Tournament Comes To India | TechTree.com
NVIDIA GeForce LAN Tournament Comes To India
Offers a total of Rs 10 lakh in prizes and a chance to play against Shah Rukh Khan.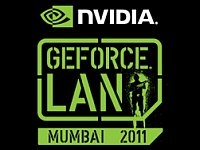 Planned anything important for 14th October? You may want to consider rescheduling, unless it happens to be more important than prizes worth Rs 10 lakh on offer at the NVIDIA GeForce LAN event. The LAN party projects a mammoth capacity of 1000 maximum participants, replete with gaming rigs sporting "NVIDIA GeForce GTX graphics processors". The game roster includes Counter Strike 1.6, Call of Duty 4, FIFA, NFS, and GTA. Interestingly, the latter two will have separate "for girls only" events.

However, what's even more interesting is that NVIDIA may have found the one thing missing in Indian gaming — Shah Rukh Khan. Not only will the winners personally receive prizes from the "King of Bollywood", but the event also vaguely promises "a chance of trying your skills against mega-star gaming fanatic Shah Rukh Khan". With NVIDIA expecting 1000 gamers for the one-day event, I wonder how many will actually get to go mano-a-mano with Khan. Hopefully, this gimmick should at the very least fulfil the quorum for the girls-only gaming events.

The NVIDIA GeForce LAN event is open to everyone. Click here to register. There's no word on the event location and prizes, but the organisers have promised to reveal more information as the event draws near.

TAGS: Gaming, Events, Contests, NVIDIA, Culture, Movies, Nachiket