Rumour: HTC Readying One Mini And One Max. 'One' Too Many? | TechTree.com
Rumour: HTC Readying One Mini And One Max. 'One' Too Many?
The One Max is said to sport a 6" display, while the Mini settles for a 4.3" screen.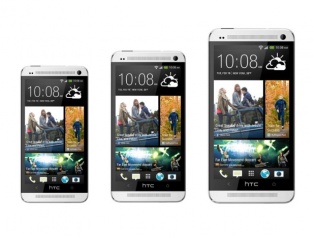 The Taiwanese manufacturer HTC is expected to add two more handsets to its One series – namely One Mini and One Max. Based on the information from Mobilegeeks.de and Androidnext.de, both these handsets will have almost same design as that of the original One, but the specs will differ significantly.

The One Mini is expected be a watered-down version of company's current flagship. It will pack in a 1.4 GHz dual-core Snapdragon 400 chipset. The display is 4.3-inch with pixel dimensions of 720x1280. Other features include a 4 megapixel (UltraPixel ) rear camera with LED Flash, 1.6 mp front-facing camera, 1 GB RAM, 16 GB internal storage, and 1700 mAh battery. The handset is speculated go official by the end of this month.

On the other hand, the One Max will be bigger and faster. The rumour has it that the phone may feature a quad-core Snapdragon 800 chipset clocked at 2.3 GHz. And there will be a 3200 mAh battery to keep this monster going. HTC is likely to unveil this oversized phone in September to compete with the upcoming Samsung GALAXY Note 3.
TAGS: Mobile Phones, Android, HTC, One