Roswell UFO Reappears On Google's Homepage After 66 Years | TechTree.com
Roswell UFO Reappears On Google's Homepage After 66 Years
Interactive doodle is not available on Google.com or Google India pages though.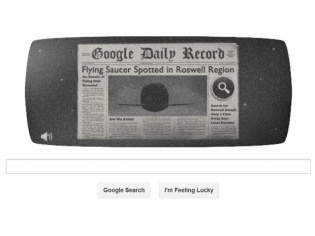 It's been 66 years since an unidentified flying object (UFO) had been spotted flying over a ranch at Roswell, New Mexico. While the air force didn't share any details regarding the "flying saucer", the Roswell UFO incident, as it came to be known, has become arguably the most publicised and controversial of all UFO citings. In a report published in the Roswell Daily Record, the intelligence office of the 509th Bombardment group at Roswell Army Air Field declared that it had a flying saucer in its possession. However, that was later negated by reports confirming it to be a weather balloon instead.
Google has paid its homage to the episode with an interactive doodle. Head over to Google.co.uk or Google.ca to help the alien recreate his spaceship that will take him back home. Collect props along the way that will help you complete the mission. Strangely, the doodle is not online on the US-based Google.com even though Roswell is present in the US.