Votes Up: DSLRs Are The Most Popular Cameras In India | TechTree.com
Votes Up: DSLRs Are The Most Popular Cameras In India
A whopping 38% users warming up to DSLRs, as point and shoots lose to new-age mobile cameras by a whisker.
Gone are the days when digital SLRs were considered to be expensive and niche products. Not only have they become affordable, in this age of social networking, putting up pictures also adds to your popularity quotient. That being said, it comes across as a pleasant surprise that several of our readers have voted for DSLRs with interchangeable lenses, over pro-zoomers, which are known to capture good details with their existing setups at a good price point.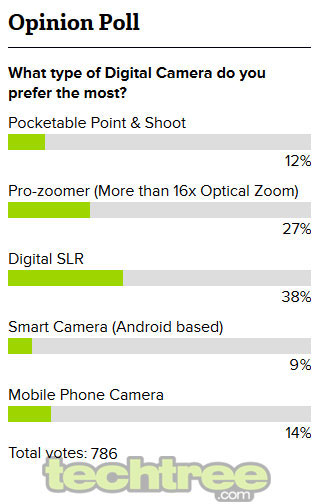 Going by our opinion poll, 38% of the readers would prefer investing in a DSLR, followed by 27% people voting in favour of pro-zoomers that boast of over 16x optical zoom. However, those willing to invest in well-built lenses will be a small number by a long shot.
With the quality of cameras improving on high-end smartphones (and not just megapixel counts), the likes of Nokia 808 PureView, the Samsung GALAXY S4, Nokia's Lumia series, and the Apple iPhone 5 seem to be giving the pocketable point and shoots a run for their money. They managed to edge past basic point and shoots by a whisker, thanks to their cameras sporting equally good sensors, low-light captures, app support, and most importantly, ease in sharing online.
While we don't see too many takers for smart cameras yet, we can't really blame users — the only two Android-based cameras we know of come from Nikon (Coolpix S800c) and Samsung (GALAXY Camera EK-GC100). The former is not up for sale in India yet, and the latter's performance is nothing to write home about. Also, the price is a bit too high for mass acceptance. And as we have seen in this poll, when the price goes above the 25k mark, majority of the users start thinking about a DSLR.
The poll suggests a clear shift towards DSLRs due to their perceived superior image quality. But one must not forget that owning a DSLR makes you a camera owner and not a photographer. A key difference between the two being the willingness to be adventurous and experimental with their shots, with a good understanding of the role that light plays in photography.
TAGS: Cameras