AOC Offers LED TVs At Affordable Prices Starting At Rs 18,990 | TechTree.com
AOC Offers LED TVs At Affordable Prices Starting At Rs 18,990
32" and 29" models available along with a chance to dine with actress Kalki Koechlin; offer valid till 15th June.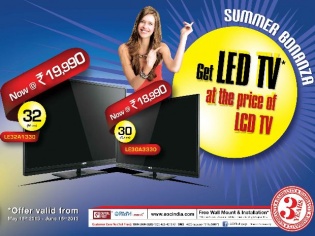 For those who wouldn't buy an LED TV just because it is too expensive, AOC is offering two of its models at very affordable prices. Dubbed as the Summer Bonanza scheme (although summer is almost over), two LED-backlit LCD TV models — the LE32A1330 and the LE30A3330 with 32" and 29" displays respectively are now available. What's more, the buyers will get a chance to dine with actress Kalki Koechlin and also get free movie tickets apart from other goodies. That being said, I don't really think an opportunity to meet Koechlin will be the deal maker here, and by the likes of what we know, celebrity brand ambassadors doesn't seem to woo our readers too much anyway. But for those interested, this offer is valid till 15th of June and buyers will have to fill up the form from the AOC India website to avail the offer.
Under this offer, the LE32A1330 and LE30A3330 are available for Rs 19,990 and Rs 18,990 — Rs 3500 less than their regular prices of Rs 23,490 and Rs 22, 490 respectively. Both the monitors are HD-ready, which means that they can display 720p movies natively, while Full HD movies will be downscaled to match actual pixel dimensions. This is not really a deal breaker, because we all know from experience that on a TV with screen size up to 32", a normal human eye is generally not able to discern between 720p and 1080p content. Although it is not mentioned, these models should consume less power with LED backlighting. In addition to the above, the models are available with easy finance schemes, free wall mount installation, and 3-year warranty. Here are the common specifications:
32"/29" LED-backlit LCD panel with pixel dimensions of 1366x768.
Brightness: 300 cd/sq. m.
Backlight control, 3D comb filter, DCR.
Viewing angle H/V typical: 176 degrees/176 degrees.
Speaker output: 10 W x 2 with Dream Surround Sound and Auto Volume Level.
Inputs: 2x HDMI, AV, Co-axial, YPbPr, VGA, PC Audio, USB (movies, music, photos).
Outputs: Video-out, 3.5 mm headphone jack.