Votes Up: Which Is India's Most Desirable Smartphone Currently?
No, it's not the iPhone 5. In fact, it is the last amongst equals as per our readers.
After screen sizes and operating platforms, brands play an important role in influencing people's buying decisions. While it isn't surprising that readers continue to have their heart set on certain devices, what strikes as odd is that the loyalty doesn't die down even when cooking up a wish list.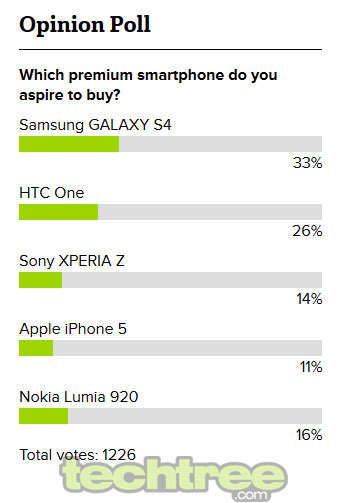 As far as pricing is concerned, most of these handsets — the Samsung GALAXY S4, HTC One, Sony XPERIA Z, Apple iPhone 5, and Nokia Lumia 920 — all fall in similar price bands; around Rs 40,000, give and take a couple of thousands.
While the Samsung GALAXY S4 seems to be doing a good job of building up the hype and wooing crowds, and the HTC One closing in as an able competitor, it is rather shocking that the iPhone 5 is limping at the end of the queue. Unlike the Windows Phone, its app repository is running ahead on full throttle, and the 4" phone itself boasts of a good user experience.
As far as the results are concerned, Samsung GALAXY S4 is the most desirable smartphone for our readers with 1/3rd of the total votes, followed by 26% votes for the HTC One. Clearly, a sturdy dust-proof and water-proof phone does not get too many of our readers excited (nor does a Katrina Kaif trying her best to sell it) with just 14% of the voters giving Sony's Xperia Z a thumbs up. One can safely say that the smart people on our site look at the product rather than the pretty celebrities trying to sell you the same.
While the WP8-based Lumia 920 was kind of expected to end up at the base of the list, given people's skepticism about the Windows phone platform, it did a reasonable job in the poll to grab the mid position with 16% of the votes. The camera must have definitely clicked for the 920. It is highly unlikely that its horrendous TV commercials would have assisted in any manner.
The fact that Apple finished last (11%) with its current flagship iPhone 5 is a bit hard to digest. The product might seem slightly dated given the kind of features competing Android devices boast of these days, and especially the high-res displays. Also, if you look at our last week's poll analysis, readers steered clear of phablets, but phones with screen-size up to 4" weren't too popular either. Or may be the Apple fans already have their eyes set on the next iPhone that's due shortly.
One way or the other, at least for now, people seem to be aiming for the stars, and ditching the fruit basket with goodies.