LG Optimus L7 Users Get Android 4.1.2 Update | TechTree.com
LG Optimus L7 Users Get Android 4.1.2 Update
The Jelly Bean update can be installed using LG's Mobile support tool.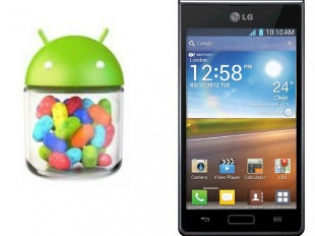 Finally, LG's Optimus L7 (P705) is all set to go the Android Jelly Bean way. LG has started providing the long awaited Android 4.1.2 Jelly Bean update for users of its Optimus L7 smartphone, in India. If users prefer using updating their Optimus L7 with Android 4.1.2 immediately, then the LG Mobile Support Tool would have to be downloaded from LG's official Optimus L7 smartphone page. The easier but time-consuming process is for those who prefer FOTA (firmware-over-the-air upgrading mechanism), whereby users would have to keep checking for updates from within their Optimus L7 smartphones at frequent intervals. Details regarding FOTA update can be had from the official LG FOTA support page.

With Android 4.1.2 Jelly Bean, various enhancements like Google's Project Butter (for better overall performance of the smartphone), Google Now (Google's personal assistant), Improved User Interface and Customize notifications, are usually provided. These would do the LG Optimus L7 a world of good, with improvements in the user interface.

LG's Optimus L7 was released in India last year, and ran the older Android 4.0 (Ice Cream Sandwich) operating system. This mid-range smartphone has a price tag of Rs 12,999 (online price). Its successor called the LG Optimus L7 II Dual, retails for a price of Rs 14,900. The LG Optimus L7 II did feel like a forced option until now, if users wanted to buy an Optimus L7 with Android Jelly Bean, but not anymore. Unfortunately for LG, a number of smaller brands have swarmed into the 10-15k price bracket with good specs and pretty slim designs.
TAGS: LG, Optimus, smartphones, Android, Jelly Bean