Samsung Launches 20 Smart TVs In India | TechTree.com
Samsung Launches 20 Smart TVs In India
2013 range includes some with quad-core CPUs and touch pad remote controllers.
Samsung has launched 20 new Smart TVs with screen sizes ranging from 32" to 65". The TVs are from the company's Series 6, 7, 8, and the Series 5500 and 4500. Also among the newly launched models are the F8000 and F7500 with screen sizes of 46", 55" and 65", which are the first Smart TVs from Samsung with a quad-core CPU. These TVs also feature Smart Interaction, which basically means motion and voice sensing to be used as input. Of these, the F8000 is Samsung's first TV with Intelligent Viewing, which claims to optimise the image quality depending on the source. The TVs also have been "tropicalized" for Indian electrical conditions with Triple Protector feature to protect against electrical surges, lightning as well as humidity.

In addition to the normal remote control, the new TVs also have a much smaller and more convenient Smart Touch Control remote, which has a touchpad that can understand intuitive gesture inputs to carry out the commands. The TVs feature a redesigned Smart Hub with access to apps, photos, videos, and music. Now, up to 30 apps per page are displayed and users can organise and customise favourites. Series F5100, F4800, and F4100 with two USB ports on the side, come with ConnectShare Transfer, which can be used by users to share content between devices via USB without using a PC. Ranging from 22" to 46" screen sizes across Series 4 and 5, these are priced between Rs 16,000 and Rs 76,500. The F4800 is unique with its front woofer and speakers for a loud audio output of 800 PMPO.

If you thought Plasma TVs were dead, Samsung has kept them in the game by launching five models in the Series 8 with screen sizes of 43", 51", and 64", and priced between Rs 35,500 and Rs 2,10,000. The company also showcased its UN85S9 UHD (UltraHD or 4K or 3840x2160) TV with four times as many pixels as a Full HD TV and an 85" screen. Incidentally, the company had introduced this first in January this year at the CES 2013, and it reigned as the world's largest 4K LED TV for a couple of days before Samsung showcased its UN110S9 TV, which took the title with a 110" screen.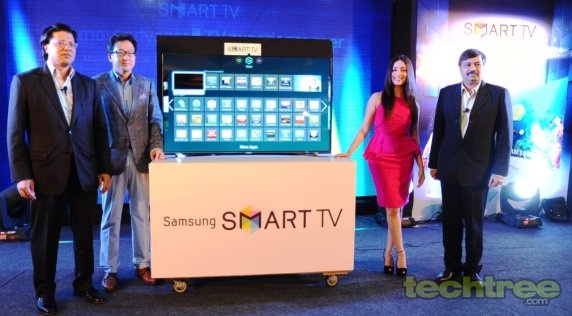 With these new additions, Samsung now has 43 models across its LED, LCD, and Plasma TV range with screen sizes ranging between 22" and 75", prices ranging from Rs 14,500 to Rs 7,50,000. It seems that Samsung is following its successful strategy that it applied to mobile phones and tablets: keep pushing for larger screens and flood the market with mind boggling number of models. Even as the company is already selling the largest number of TVs, let's see if the strategy helps it to further solidify its market share in this product segment.
TAGS: Displays, Samsung, Televisions