Rumour: Rendered Image Of Upcoming Facebook Phone Surfaces Online
The device is expected to be called HTC First.
Android is the most popular smartphone platform, which explains why Mark Zuckerberg chose it over other alternatives. For some reasons though, the first lot of FB-centric phone including HTC ChaCha and Salsa failed to make any impression. This, however, doesn't seem to stop the duo from giving it yet another shot.

As many of you already know, the social media giant is expected to unveil the new Facebook phone in a press event tomorrow. However, nobody had the slightest clue about how it would look, until today — it was @evleaks who revealed the design of the upcoming phone. Surprisingly, there's no FB branding on the phone's front panel. It's supposedly called HTC First, which quite a weird name for a Facebook phone. But yes, it's still better than ChaCha.

According to earlier reports, the phone runs a modified version of Android with a twist of Sense UI. The focus, naturally, will remain on Facebook integration. The details regarding its hardware specs are scarce at right now, but GSMArena reports that the phone will feature a 4.3" HD screen, dual-core Qualcomm Snapdragon S4 Plus CPU, and a 5 MP camera.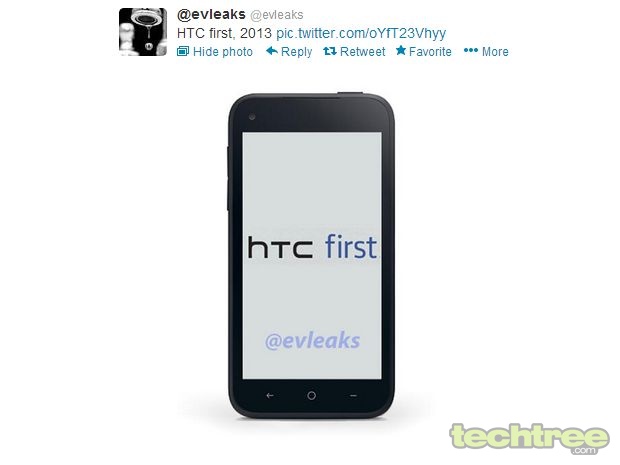 TAGS: Facebook, Mobile Phones, Android, HTC