Google+ Tweaked Just Ahead Of Facebook Event | TechTree.com
Google+ Tweaked Just Ahead Of Facebook Event
These Google+ tweaks are expected to be rolled out gradually to all users.
Google has never been one to fight shy of an arms race, and is now doing the same for its social network. The company has announced a number of tweaks and updates to its social networking site Google+, just ahead of Facebook's event where FB is expected to showcase a new-look News Feed. Google+ users will now notice changes to the way their profiles are displayed.

Says Google's Sara McKinley in a post, "We spend lots of time listening to your feedback, and today we're launching some profile and page updates that you've been asking for."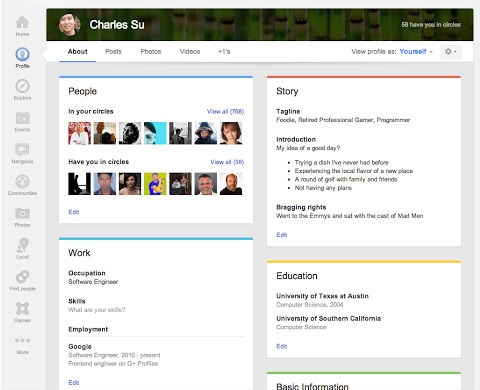 Google+ Profile Tweaks (Image Credit: Google)

The key changes Google has given to Google+ users are:
Bigger Cover Photos: Cover photos can be of up to 2120 x 1192 pixels and 16x9 display is enabled when photos are expanded fully.
Tweaked "About" tab: The "About" tab now lets users to organize information into cards resembling Google Now. There is even a "Story" tab that provides basic information about users and the "Places" tab outlines the various details about the places in which a particular Google+ users has lived.
New "Local" tab: This tab enables users to put together in one place the local reviews which he/she would have done. This review could include reviews about a particular place, or even about a particular restaurant that a user has been to recently. This tab can be hidden by using "Settings".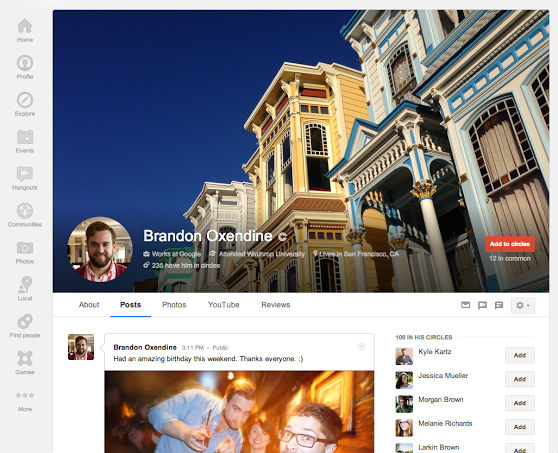 Google+Larger Cover Photos (Image Credit: Google)
Google says that these changes will roll out gradually. I haven't yet noticed the changes in my Google+ page, at the time of writing.

Just where does G+ stand in relation to Facebook? In January this year, Google+ had risen to the number 2 spot in terms of number of monthly active users throughout the world, and recorded 343 million users in January.