Apple iPad 4 128 GB Launched At Starting Price Of Rs 50,000 | TechTree.com
Apple iPad 4 128 GB Launched At Starting Price Of Rs 50,000
This could be a move to counter the imminent threat from upcoming Microsoft's Surface Pro tablet.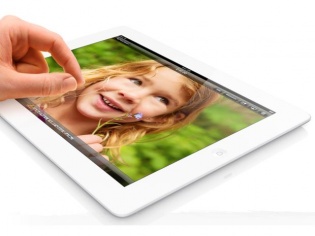 Data hogs can certainly do a victory dance as Apple has now launched a 128 GB version of the 4th generation iPad. With the earlier maximum storage on the tablet being 64 GB, this literally doubles the storage space. Rumours were abounding earlier about the existence of this model and they have now been confirmed. As mentioned in the rumour, the hardware remains the same, with only flash memory storage capacity getting an upgrade. The 9.7" Retina display tablet powered by the A6X chip will feature the new iOS 6.1, which claims to support additional LTE networks around the world. However, India still doesn't figure in the list, so this high speed data connectivity will not be available to the device in the country as of now.

One of the main reasons for the storage capacity upgrade seems to be the imminent threat from Microsoft's upcoming 10.6" Full HD Surface Pro tablet, which also features 128 GB of storage and is set to be launched on 9th of February. It must be noted here that the iPad 4 has a distinct advantage here because iOS 6.1 will probably take less than 3 GB of the 128 GB, leaving the rest for the user. The Surface Pro, however, ships with only 83 GB of free space for the user to use, with the rest getting used by Windows 8 and various included apps. That said, Microsoft does have an ace up its sleeve because this is not the end of the road — a microSDXC slot is present on the Surface Pro that can theoretically add up to 2 TB more. The iPad 4 doesn't feature such an expandable storage option.

In iOS 6.1, the 4 different storage capacities of the iPad are named thus: 16 GB (GOOD), 32 GB (BETTER), 64 GB (BEST), 128 GB (ULTIMATE).

The 128 GB version of the iPad will be available in India, at the following prices:
Rs 49,900 for the Wi-Fi only model.

Rs 56,900 for the iPad with Wi-Fi + Cellular model

.
The 64 GB version of the Wi-Fi only model retails for just under Rs 44,000, and the Wi-Fi+celluar model for about Rs 52,000. This means, the additional 64 GB comes at a premium of 5-6k, certainly many times more than what that much storage should cost. But then, this has always been the case, and we are talking of Apple, aren't we?