Noida Schoolgirl Wins Doodle 4 Google Contest | TechTree.com
Noida Schoolgirl Wins Doodle 4 Google Contest
7-year-old Varsha Gupta will get her creation displayed on the Google India homepage on Children's Day.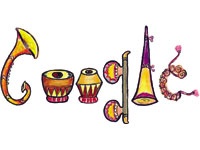 More than 90 days after it started and with over 155,000 entries from across the country, India has found its third Doodle 4 Google contest winner, a 7-year-old girl from Noida. Varsha Gupta, a third standard student of Ryan International School in Greater Noida, has been chosen out of 45 finalists for her colourful and creative entry based on this year's theme, India's gift to the world. Managing Director and VP Sales and Operation for Google India, Rajan Anandan, presented her with the winning certificate, along with a Technology Starter package (a laptop and a year's internet connection), and a Rs 200,000 technology grant for her school. Varsha's winning entry will appear on the Google India homepage all day on 14th November, the birthday of Jawaharlal Nehru, which is celebrated as Children's Day in India.

Titled Indian Musical Instruments, Varsha's entry is an expression of a child's superior creative imagination, and is explained thus: "India is a land of different cultures. In India, music plays a very important role. India has given many musical instruments to the world".

Varsha's winning doodle.

For those who came in late, Doodles are creative interpretations of the Google logo that appear on certain special days to commemorate historic or seasonal events, and have been appearing even before Google officially became a company in 1998. The annual Doodle 4 Google competition is open to students from standards I to X across Indian schools, wherein they submit unique versions of Google's logo based on a predetermined theme for the year. This year, submitted entries were shortlisted by partner art schools and 6000 made it to the quarter-final round. Of these, 600 were shortlisted by the faculty from Sir JJ School of Arts to proceed to the semi-finals, from which 45 finalists were picked by a panel of judges comprising Prasoon Joshi (advertising guru), Nandita Das (acclaimed actress), and Ganga Kadakia (renowned artist). The final national winner was chosen by expert doodlers Dennis Hwang and Jennifer Hom.

An online public vote was also held to determine three more popular choice winners according to age-based groups: Shibajyoti Choudhury from Little Flower School, Jamshedpur (Group 1: Standards I-III), Abhinav R from Stanes AI higher Secondary School, Coimbatore (Group 2: Standards IV-VI), and Nishi Bordia from The Emerald Heights International School, Indore (Group 3: Standards VII-X). Each group winner was awarded a Technology Starter package. You can view the finalists' doodles by visiting this page.
TAGS: Contests, Internet, Education, Culture, Google, Jayesh