Google India Lights A Candle On Its Homepage For Delhi Rape Victim | TechTree.com
Google India Lights A Candle On Its Homepage For Delhi Rape Victim
Instead of the year-end doodle, a tribute to "the Delhi braveheart" appears with a plain-vanilla Google logo.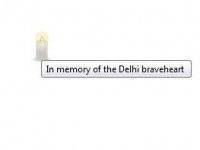 Instead of its usual doodle — one that marks the end of the year — Google India has put up a small white candle as a tribute to the young rape victim from Delhi who breathed her last in Singapore and was cremated in the capital on Saturday. The candle appears below the search box with the mouse-over tooltip text reading, "In memory of the Delhi braveheart."
Google US had done something similar earlier this month — a logo as a tribute to the kids who died in an elementary school shootout. That logo read, "Our hearts are with the families and community of Newtown, Connecticut."