Zebronics Launches Three Tower Speakers Models; Prices Start At Rs 6800
Designed to produce full range of audio via multiple drivers; touted as "Monster Power Speaker" and "for audiophiles".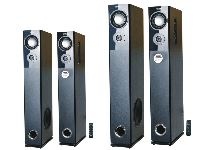 Stepping beyond PC speakers, Zebronics has now launched three different models of tower speakers with a claimed audio output of up to 100 W RMS. The speaker models are the ZEB-T7500RUCF, ZEB-T8500RUCF, and the ZEB-T9500RUCF, which all look similar. They have RMS audio outputs of 60 W, 80 W, and 100 W respectively. The physical dimensions progressively increase from the first model to the third. Meant to be placed in the living room beside a TV and/or Hi-Fi set, the speakers have a glossy piano black finish. The enclosures are said to be made of wood for better sound quality, as opposed to the plastic common in lower-end models. Each tower comprises one 8" driver for low range (bass), a 4" mid-range driver, and 1" cloth dome tweeter to handle the higher frequencies (treble). The woofer driver is near the bottom, while the bass port is at the front. The speaker set supports stereo input.
In addition to a full-function wireless remote control, the right speaker has volume controls for individual channels. Along with an LED indicator, the towers have USB and SD/MMC card slots at the front to play music directly from such devices. They also have an FM radio receiver built in. Thanks to two microphone inputs, Karaoke is also supported for those of you who like to sing along, although it is not clear whether there is support for the voice removal function.
The bundled accessory cables let you to connect digital devices such as phones, media players, or TVs via the auxiliary input, and to use them with a music system. While the company claims these are good enough for audiophiles, we are not really sure: Audiophile-grade sound equipment doesn't come so cheap. A press release calls these "Monster Power Speakers", but we will reserve our opinion until we get to hear them.
The Zebronics ZEB-T7500RUCF, ZEB-T8500RUCF, and ZEB-T9500RUCF are available for Rs 6800, Rs 7500, and Rs 10,000 respectively. They all come with a 1-year warranty.