It's A Tablet! It's A Laptop! It's The Fujitsu STYLISTIC Q702!
Hybrid tablet-plus-laptop with Windows 8 offers the best of both worlds for Rs 69,000.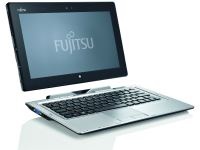 Ever been in a situation when you had a laptop wishing you had a tablet (or vice-versa)? Ever wished for a device that can instantly switch between the two form factors? Fujitsu grants this with its STYLISTIC Q702 tablet. Dock the device into a keyboard accessory, and it transforms nicely into a laptop. This Windows 8 device is basically a tablet, because the essential computing hardware is inside the screen, and the keyboard is an accessory. But actually, the keyboard is more than an accessory because it contains additional ports and, more importantly, an additional battery. A stylus has been provided as an extra input method.
The Q702 sports an 11.6" 10-point capacitive multi-touch display with HD-Ready pixel dimensions of 1366x768. The anti-glare finish on the IPS panel makes it easy to view even with light directly on it.
Fujitsu offers Intel Core i3 and i5 variants with vPro to suit your computing requirements. 4 GB of DDR3 RAM is standard, while there are SSD options of 128 GB and 256 GB; the latter has full data encryption (FDE). In case you are even more paranoid about security, a fingerprint scanner at the back provides secure biometric login. The device features Intel HD 4000 integrated graphics, and has a 5 mp rear camera and front HD cam. Wireless connectivity is via Wi-Fi 802.11 a/b/g/n, Bluetooth 4.0, and a 3G/4G SIM slot.
The tablet is encased in a magnesium alloy body, which enhances durability. The keyboard accessory has a nice brushed-metal finish. Battery life is stated to be over 4 hours in standalone tablet mode, and it goes to over 9.5 hours with the keyboard attached. The Fujitsu STYLISTIC Q702 is available for Rs 69,000 excluding local taxes and comes with a 2-year warranty.