Belkin Launches AC 1200 DB Router With New-Generation Wi-Fi 802.11ac For Rs 15,000
Dual-band device promises enhanced reliability and streaming capabilities with faster speeds.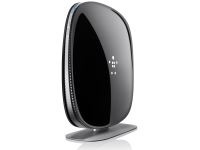 Belkin has launched the AC 1200 DB dual-band AC+ router in India. It features the latest Wi-Fi 802.11ac standard of wireless connectivity. At 867 Mbps, this is 2.8 times faster than 802.11n. For a speed boost, connected peripherals will also need to feature the new standard. But the AC 1200 DB is backward compatible, and will work with older generation devices (smartphones, tablets, Smart TVs, laptops, and others) without a problem.
The dual-band high speed of up to 300 Mbps at 2.4 GHz and 867 Mbps at 5 GHz allows smooth streaming of Full HD movies on your home network. The proprietary Intellistream QoS — which automatically prioritises video and gaming — is at work here. The multibeam antenna claims to be able to cover "an entire house". In addition to the Gigabit Ethernet port for internet connectivity, there are four Gigabit ports for wired devices.
Cutting-edge technology doesn't come cheap, and the price tag of Rs 15,000 for this product says just that. If you already have a Wi-Fi router, we'd suggest you stay with what you have — and wait for the price to drop.