Flipkart.com Will Now Sell eBooks On Its Flyte Store
Titles readable only on Flipkart's own Flyte eBooks app, available for Android devices as of now.
Flipkart.com started its online shop selling books. The virtual store has been going quite the Amazon way, now introducing an eBook category on its Flyte digital store. The store had been selling MP3s at throwaway prices; it now claims to have around 100,000 e-books. But these can be only read though the Flyte eBooks app, and the app is currently available only for Android devices. An app for Windows Phone 8 will follow soon, but their press note doesn't mention an iOS app. Anyway, to sweeten the deal, Flyte is offering 4000 free titles. Prices for the e-books start as low as Rs 30. But the Kindle versions — from Amazon.com — of many popular titles cost about the same as here, and in some cases, are much cheaper.
Unlike the Flyte digital music service, the e-books aren't DRM-free. You can download each e-book up to six times. The Flyte eBook app comes with a "sync your reading location" option, meaning you can switch between two devices and start reading your book where you stopped. The app lets you make notes, highlight text, search text, and add multiple bookmarks.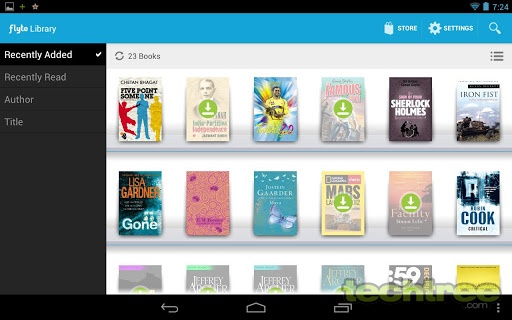 TAGS: Internet, E-Commerce, Kamakshi