AKAI Introduces Two HD LCD TVs With Small Screens; Prices Start At Rs 8000
Take the entertainment to your kitchen or bathroom (or the loo, if you will).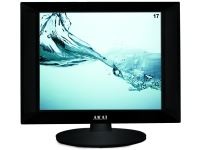 AKAI is in a resurgent mood: We've seen them launch TV models at regular intervals over the past few months. This week sees the launch of two models with unusually small screens. The 17" Elegance and the appropriately named 15" Cutie look similar, and have similar specs. Both feature a glossy piano finish and thick bezels. With pixel dimensions of 1366x768, they can natively display 720p, and they claim to be able to play 1080p content as well — although this will obviously be scaled down. Both models have an HDMI port; AKAI states PC compatibility, so there should also be a D-Sub port — although this is not specifically mentioned. The Elegance and the Cutie claim USB playback with Full HD for videos and support for a multitude of formats. Here are the product specifications common to the two models:
15" / 17" LCD with pixel dimensions of 1366x768.
HD Ready (720p).
Contrast ratio: 100000:1.
1x HDMI.
3D Comb Filter, Adaptive / 3D Deinterlacing, Dynamic Skin Corrrection, 3D Dynamic Noise Reduction.
Sound output: 200 W (PMPO).
USB playback for movies, pictures, music.
These are LCD TVs, so you can expect them to consume as much power as 24" LED TVs. The Cutie and Elegance are priced at Rs 8000 and Rs 10,000 respectively.
The concept of a small TV may not appeal at first glance. It could, however, make sense to have one in the bedroom. You could put one up in the kitchen to entertain the cook — provided you're OK with the occasional charred chapati. Perhaps you could install one in the bathroom for an immersive bathing experience?