iPad mini Teardown: Should It Really Cost This Much?
Analysis by IHS also reveals cost of parts for Microsoft Surface and Amazon Kindle Fire HD.
For those of you wondering just how much of the money you pay for your gadgets goes towards the actual hardware, here are some new figures. Case in point: The new iPad mini is estimated to cost Apple about $188 (Rs 10,300), which is 57% of the selling price of $330 (Rs 18,000). A report by IHS (previously known as the teardown website iSuppli) has revealed this number, taking only hardware costs into consideration. Of course, there's very significant investment that companies like Apple and Microsoft make in supply chains, extensive testing (despite which bugs show up now and then), OS development, industrial design, etc. Marketing spends are another expense for the biggies (which don't translate to the ownership experience, but that's another discussion for another day). As reported on WSJ.com, the above mentioned figures are for base model with Wi-Fi and 16 GB storage: The 32 GB and 64 GB variants increase cost to the manufacturer by $31 (Rs 1700) and $62 (Rs 3400) respectively.
The report also looks at the internals of the Microsoft Surface and Amazon Kindle Fire HD tablets. Parts for the 32 GB Surface tablet, which is priced at $500 (Rs 27,000), have been estimated to cost $271 (about Rs 14,600) — that's about 54% of the selling price. The add-on Touch Cover available for $120 (Rs 6500) probably costs $16 (Rs Rs 900) to make. The other device featured in the teardown is the Amazon Kindle Fire HD 16 GB that is said to cost $165 (Rs 9000) to manufacturer, while its cost is only $200 (Rs 10,800), which makes the Kindle Fire HD the one earning least profits per piece sold for the manufacturer (Kindle ebooks can be a revenue soruce for Amazon though).
Elaborating on the iPad mini, the report further reveals the names of manufacturers who supply parts for the iPad mini.
The 7.9" display is said to be manufactured by LG Display and AU Optronics and costs about $80 (Rs 4300).
The A5 processor is from rival Samsung, while memory chips have been sourced from various other manufacturers including Hynix.
The audio chip is provided by Cirrus Logic.
Accelerometer comes from STMicroelectronics.
Wireless chips have been sourced by Broadcom made using wireless chips that were assembled into the wireless module by Murata.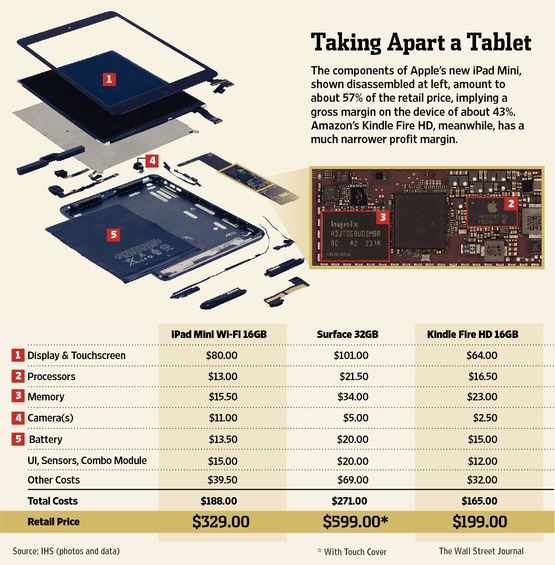 If you have read this far, you are probably wondering more now than before, whether the price of some of the premium gadgets is worth the money or not. More so, considering products from lesser known manufacturers with similar form factors and computational power are available for less than just the hardware cost of these premium devices. If a well speced 7" Android tablet costs Rs 10,000 (that's a safe estimate), just how much extra are you willing to pay for a better screen resolution and few lesser bugs? Let us know through the comments.
TAGS: Tablets, Amazon, Apple, Microsoft, iPad, Kindle, Surface, Jayesh