Apple MacBook Pro Launched With 13" Retina Display; Starts At Rs 115,000
Powered by Intel dual-core Core i5 and i7 CPUs with 8 GB of RAM; lacks optical drive and discrete graphics.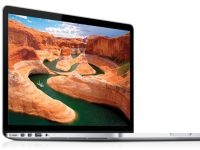 Apple has announced the new MacBook Pro sporting a 13" Retina Display with pixel dimensions of 2560x1600, yielding 227 ppi. This is four times as many pixels as on its (non-Retina) predecessor. The IPS panel claims to have a viewing angle of 178 degrees, is 75% less reflective, has a brightness of 300 nits, and a 29% higher contrast ratio. The chassis is apparently 20% thinner, with a thickness of 0.75"; it weighs 1.6 kg, which makes it the lightest MacBook Pro ever.
The device runs Mountain Lion. It comes in models powered by Intel Core i5 or i7 dual-core CPUs, both with 8 GB of RAM. You get up to 768 GB of SSD storage built in. Asymmetric Li-ion batteries provide backup of up to 7 hours. The bezel sports a FaceTime HD camera. The keypad is backlit. The new MacBook Pro has a glass multi-touch trackpad. Some of the other specs include two Thunderbolt ports, a USB 3 port, stereo speakers, headphone jack, and dual microphones. Wireless connectivity comes in the form of Bluetooth 4.0 and Wi-Fi 802.11n.
On the downside, there is no optical drive, and the MacBook Pro still doesn't feature discrete graphics — using integrated Intel HD Graphics 4000 instead, possibly to conserve battery power. This may not be a good thing, as the ultra-high resolution may be hard to handle for graphics-intensive applications such as Photoshop.
The base model of the 13" MacBook Pro with a 2.5 GHz Intel Core i5, 8 GB of RAM, and 128 GB SSD is now available in India for Rs 115,000 (as againt the US price of $1700, or approx Rs 91,000). If you choose the 256 GB SSD, other specifications remaining the same, the price goes up to Rs 135,000. There will also be a 2.9 GHz Core i7 variant with 768 GB SSD that will surely cost a lot more.
With Intel Ultrabooks making their presence felt, it will be tough going for this set of Apple devices if the prices don't go down!