Intex Launches Eight LED And LCD TVs From 19" To 40"; Prices Start From Rs 9500
Claim USB playback support, reduced eye strain, and low power consumption.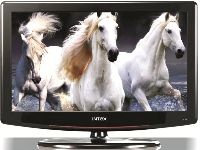 Intex has entered the television segment with eight new models of LED and LCD TVs. Apparently in anticipation of Diwali, the TVs feature screen sizes ranging from 19" to 40". The four LED-backlit models are the LED-1901 (19"), LE22FHD06-VR12 (21.6"), LE23FHD01-KT11 (23"), and LED3204V12 (32"). The plain-vanilla LCD TVs in this launch are the LC22HDR11-VT12 (22"), LC22HDR12-VT12 (22"), LCD-3272T (32"), and LCD-4072 (40"). The entire lineup has been mentioned on the company page for TVs, with the exception of the 40" LCD TV. Intex has been known for several years as a maker of PC peripherals, and more recently, mobile phones. This is the first time, however, that Intex has stepped into the TV manufacturing business. Here is a general list of the minimum features of the TVs, as Intex states:
HD Ready with USB video playback.
3x HDMI input for LED-backlit models (2x or 1x HDMI for LCD TVs).
10 W stereo audio output.
5 ms response time.
Power saving features.
Intex says all the models are HD Ready, meaning that they can support 720p natively, and that the higher-end models support Full HD (1080p). The company mentions that all LED-backlit TVs come with a minimum of 1x USB and 3x HDMI ports to connect to various sources -- STB, game console, and Blu-ray \ media player, simultaneously. If the 5 ms response time is true, you shouldn't have to worry about visible streaks while watching fast-action movies or games. All models are also said to feature Eye Safe T Matrix, which is an Intex technology to reduce eye-strain.
Rs 9500 to Rs 32,000 for this range is substantially lower than what we see from the major players. I hope the performance isn't proportionately lower!