Google Turns 14, Celebrates With A Cake-Themed Doodle | TechTree.com
Google Turns 14, Celebrates With A Cake-Themed Doodle
Internet biggie puts up an animated chocolate cake on its homepage to mark the occasion.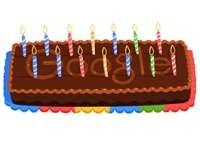 It's been 14 years since Google began helping the world find its way through the internet. To celebrate the milestone, the search giant has put up an animated doodle on their minimalist homepage — a chocolate cake with 14 candles. The candles are lit when you load the page, and slowly get blown off. They then arrange themselves in a "tally" formation, making way for the Google logo. (Last year, the search giant celebrated its entry into "teenage" with a fun party scene.)
The 27th of September isn't the date when Google was born, however; it filed for incorporation on 4th September 1998. But the first time they put up a birthday doodle was on 27th September, 2002. For the next two years, the birthday doodle appeared on 7th September, and in 2005, on the 26th of September. It's been more or less the 27th of September after that. In fact, no one is able to say when exactly Google came into existence.
For some mid-day chocolate cake, check out Google's homepage!