Eric Schmidt Gets Vocal About Maps
"Take that, Apple".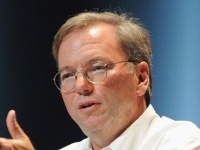 Some of us have figured out by now that we're all part of a giant experiment for Google. Executive Chairman Eric Schmidt has often been the mouthpiece of Google's "resistance-is-futile" attitude, with his words optimised for impact. What do we make of his hostile comments on the topic of the recent failure of Apple Maps?
Speaking from Tokyo at the Japan launch of the Nexus 7 tablet, Schmidt said Google had no plans to create a new maps app for iOS 6. He said, to approve Google Maps or not is Apple's decision: "We think it would have been better if they had kept ours. But what do I know? … What were we going to do, force them not to change their mind? It's their call".
Reporters got to hear some classic Schmidt on the topic of iOS versus Android, such as this:"Apple is the exception, and the Android system is the common model, which is why our market share is so much higher". Demonstrating a new Google Maps feature on the Nexus 7, Schmidt got down all the way to becoming an Android Fanboy's hero: "Take that, Apple".
Speaking about Google, search, and privacy, Schmidt asserted in 2010, "We know where you are. We know where you've been. We can more or less know what you're thinking about". From that perspective, it's quite a comedown for Schmidt to take on Apple at a gut level, like now.
But Maps has become a more sensitive issue than we'd expect. Steve Wozniak, while admitting that he was "a little disappointed" with it because he "loves navigation by voice with his Google phones", also did an unexpected diplomatic act by saying people were complaining more than they should be.
Those who need temporary workarounds to Apple's Maps will find plenty. But as far as the official app is concerned, who will pull the rabbit out of the hat? Please comment below.