HP Unveils New Notebook, Desktop, And LED Monitor Models
Introduces new models in the Sleekbook and ENVY laptop line, LED monitors, and PCs for work and pleasure.
US-based computer giant HP seems to be on a device-unveiling spree ever since IFA 2012. Over the past few weeks, we have seen several Windows 8 gadgets, including new ENVY and Spectre notebooks, as well as a range of AIO PCs. Yet, the new arrivals don't seem to show any signs of stopping. The latest announcement isn't a proper launch as such, but rather an expansion of HP's current lineup. As is typical of the brand, it has remained tight-lipped about detailed technical specifications. Let's have a look at these devices one by one.

Pavilion Sleekbook 14 And Pavilion Sleekbook 15
As the name suggests, these mainstream laptops have 14" and 15.6" HD displays. The former is powered by an AMD Accelerated CPU, while the latter comes with an Intel CPU. Moreover, the Sleekbook 15 sports a numeric keypad, which the Sleekbook 14 lacks. The common features of both laptops are as below:
Up to 1 TB HDD.
HP TrueVision HD webcam with HP MyRoom to share photos and video chat in a virtual room.
Dolby Advanced Audio, Optional NVIDIA discrete graphics.
HDMI-Out, USB 3.0 and 2.0 ports, Bluetooth, Wi-Fi.
Available colours: Sparkling Black, Ruby Red.
The HP Pavilion Sleekbook 14 and 15 laptops start at $500 (approx Rs 27,000) and $560 (approx Rs 30,000) respectively, and are expected to be available in the US starting from 26th October, along with a whole wave of devices released with Windows 8.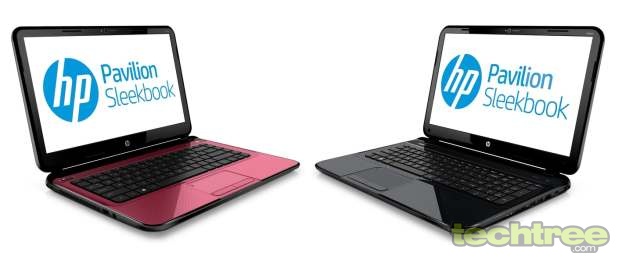 From left to right: HP Pavilion Sleekbook 14 and Pavilion Sleekbook 15.
ENVY m4
This high-end laptop has a brushed aluminium design with an optional keyboard backlight and features a 14" HD display. Running Windows 8, it packs in a third-generation Intel Core processor. Here are the other known features:
Subwoofer and two speakers, along with Beats Audio integration.
HP TrueVision HD webcam.
Optional Intel WiDi to transmit the display wirelessly to an HDTV.
The HP ENVY m4 starts at $900 (approx Rs 49,000) and is expected to be available in select markets from 26th October.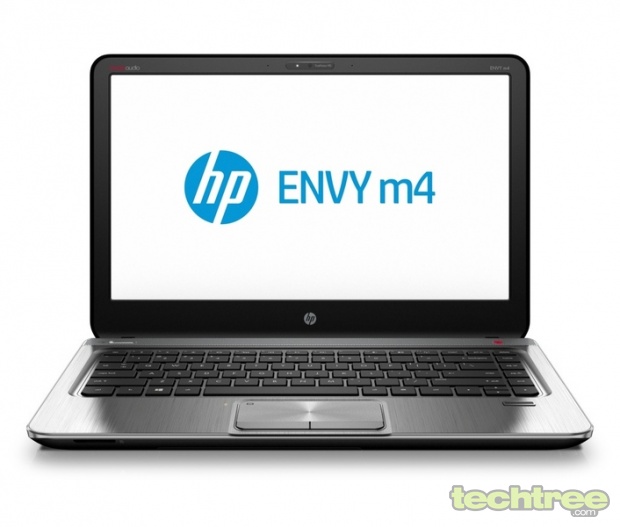 ENVY Phoenix h9
This gaming system is a revamped variant of the ENVY Phoenix h9 desktop tower. It has a distinct armour-plated design lit up with LEDs. The desktop tower is powered by a third-generation Intel CPU and gives the user discrete NVIDIA or AMD high-performance graphics options. Other features include:
Improved cable dressing for efficient airflow, cooling, and component swapping.
Tool-less hard disk bays that support up to three internal drives.
Optional ExpressCache SSD.
Beats Audio integration.
The HP ENVY Phoenix h9 starts at $900 (approx Rs 49,000) and is expected to be available in the US on 26th October. Note that since this is just the tower (system case), all other peripherals — including the monitor, keyboard, and mouse — will have to be bought separately.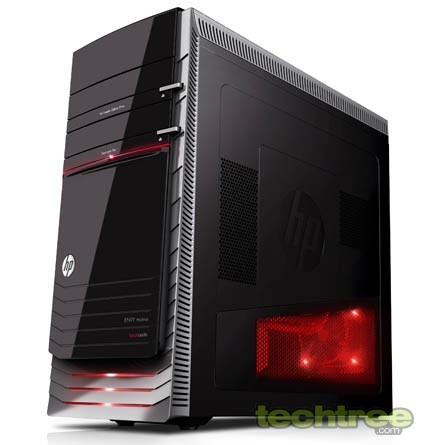 x2401 And L2401x
Both these 24" LED backlit monitors sport a glossy piano-black finish, brushed metal case, 0.4" (11 mm) thin frame, and Full HD (1080p) display. To ensure wider viewing angles while maintaining colour intensity, they employ a MVA (Multi-domain Vertical Alignment) panel instead of the regular IPS (In-Plane Switching) panel. Both models provide a static contrast ratio of 5,000:1. In terms of connectivity, these screens come with DisplayPort and HDMI connectors. In a bid to be environment-friendly, HP has used mercury-free LED backlighting, BFR \ PVC free components, and arsenic-free display glass.
The x2401 is targeted at home users, costs $250 (approx Rs 14,000), will be available in the US from 7th November, and comes with a one-year warranty. On the other hand, the HP L2401x has been designed for business users, costs $260 (approx Rs 14,500), is expected to be available worldwide on 5th November, and comes with a three-year warranty.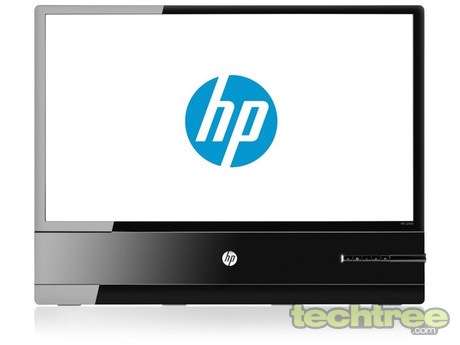 Compaq Pro 6305
This microtower PC has been made to cater to the needs of business users on a budget. The computer is powered by AMD's latest APU A10, A8, A6, and A4 processors, and employs AMD Turbo Core 3.0 technology for improved system performance. By default, the system will come preloaded with Windows 7 Professional. Let's have a look at the other features:
DisplayPort 1.2 for convenient multi-display setup.
Two PCIe x16 (v3.0) graphics slots, one PCIe x1 (v2.0) accessory slot, and a PCI (v2.3) accessory slot for legacy PCI expansion cards.
Four front-facing USB 2.0 ports, six rear-facing USB ports — including four USB 3.0, headphone, mic, and RJ-45 Ethernet connectors.
Four DDR3-1600 DIMMs, Multiple hard disk and solid state drive options.
Three year warranty.
The HP Compaq Pro 6305 starts at $540 (approx Rs 29,000) and is expected to be available worldwide on 8th October with Windows 7. Windows 8 versions will be available at a later date. As usual, a monitor and other peripherals will have to be bought separately.