Salman Khan Officially Premieres On Facebook, Scores 2.7 Million Likes In Less Than A Day | TechTree.com
Salman Khan Officially Premieres On Facebook, Scores 2.7 Million Likes In Less Than A Day
Asks imposters to either take down their pages or "fake off".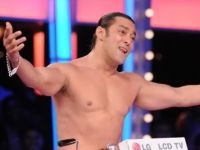 After Amitabh Bachchan and Sachin Tendulkar, it's now Salman Khan's turn to go active on Facebook. His official page received almost 2.7 million Likes in a few hours. I couldn't see when exactly the account went live, but according to a press release it happened within the last 24 hours. Unlike the pages of other Bollywood stars, the updates posted to Salman's account contain very little or no text at all. Basically, it looks more like a long photo wall that goes back to 1988 when Salman's first film, Biwi Ho to Aisi, was released.

The Ek Tha Tiger star also posted a welcome video, and his rather profound words went thus: "Lots of people ne mujhe kaha ke lots of fake Facebook pages hain mere... Aap kab Aaraho ho? Aajao. To yelo, Facebook par aa raha hun, balki aa gaya hun. Aur Jitne fake pages hain woh ya toh join kar le is page ko aur kya kahun main? Fake off" (Lots of people have told me there are lots of fake Facebook pages about me... when are you getting on? Come on. So here it is, I'm getting on Facebook. As for all the fake pages, either join this one, or... what can I say? Fake off").

In the same video, he also announced brick-and-mortar Being Human clothing and accessories stores that will soon open across the country. Being a part of Salman's charity initiative, a certain portion of the sales proceeds will be used for helping underprivileged kids. The star has wisely used this charity movement to clear his image after allegedly hunting endangered Black Bucks in 1998 and killing a man with his Land Cruiser in 2002.