Microsoft India Aims For Guinness Record At Windows 8 AppFest | TechTree.com
Microsoft India Aims For Guinness Record At Windows 8 AppFest
"World's largest coding marathon" will be held next week at Bangalore.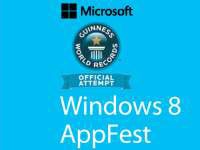 Microsoft India is conducting an app coding event for the Windows 8 OS in Bangalore this month. The Window 8 AppFest will start on the 21st of September and is slated to run for 18 hours at a stretch. Microsoft's idea is to create a world record by getting more coders into one location than ever before. This will not be a walk-in event though; developers will have to submit a description of their planned app, choosing from the 20 categories currently available at the Windows Store. Selected programmers will then be sent an invite to the event. There is no registration fee — for more details, refer to the FAQ section of the official website. Once your app is ready, onsite Microsoft staff will run it through the necessary quality checks, and offer suggestions to make it better, after which it will be submitted to the upcoming Windows Store — an app store for Windows 8 tablet and PC apps.

With the official launch of Windows 8 just around the corner, Microsoft seems to be doing all it can to ensure that its app store is well stacked-up before the launch.