Download: CompareRaja (Android)
App lets you compare thousands of products and find discounts.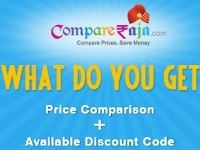 As more online malls emerge, buyers are spoilt for choice. CompareRaja.com is a website where you can compare various products from different shopping sites for price and other features to help you make a better buying decision. The CompareRaja app on Google Play is your on-the-go online shopping companion. You can compare stores for thousands of products in categories such as cameras, phones, laptops, camcorders, and books.
Apart from comparing prices, the app's icon-based interface lets you choose brands and bestsellers, get coupon codes from shopping sites, and view top coupons by popularity. So after you select a product, you'd typically select the store to buy it from, apply a discount code, and make your purchase — all from your phone.
Developer: Logicserve Digital
Size: 6.4 MB
Price: Free
Platform: Android
Download: play.google.com/store/apps/details?id=com.ls.android.compararaja