IFA 2012: Samsung Shows Off Accessory Prototypes For Android 4.1-Based GALAXY Camera | TechTree.com
IFA 2012: Samsung Shows Off Accessory Prototypes For Android 4.1-Based GALAXY Camera
Only the camera case with a magnetic flap for the 4.8" screen will be produced for now.
If you thought Samsung was over and done with all its announcements before IFA 2012 officially started, then you are way off. After unveiling the Android-based GALAXY Camera at the Samsung Unpacked event, the Korean manufacturer has put on display several accessory concepts for the device, which will hopefully make their way into mass production. Having said that, most users usually don't invest a lot on accessories for point-and-shoot cameras. Moreover, considering that the camera is based on Samsung's flagship GALAXY S III handset, and looking at its spec sheet, it will surely be priced on the higher side. If that is the case, then the company will have to look at how well the product does, before venturing into the accessories market.
TheVerge has listed some pretty interesting accessories from Samsung's lineup at the event, of which the camera case with a magnetic flap for the device's touchscreen will be out soon. Other accessories on display include a waterproof housing (a special kind of case for underwater shots), a ring light (a donut-shaped flash ring placed around the lens that helps especially for macro shots), a large flash, a lens hood (to capture more light for dimly-lit shots), a studio-style tripod setup, and a wireless charger. While the wireless charger isn't compatible with the current model, it has been designed keeping in mind future cameras that will support the feature.
Looking at these accessories, seems like this camera plans to compete with the likes of entry-level DSLRs, just like Nokia's PureView 808. Are you planning to buy the device when in launches in the country? Which of these accessories make it high in your wish list? Do let us know in the comments.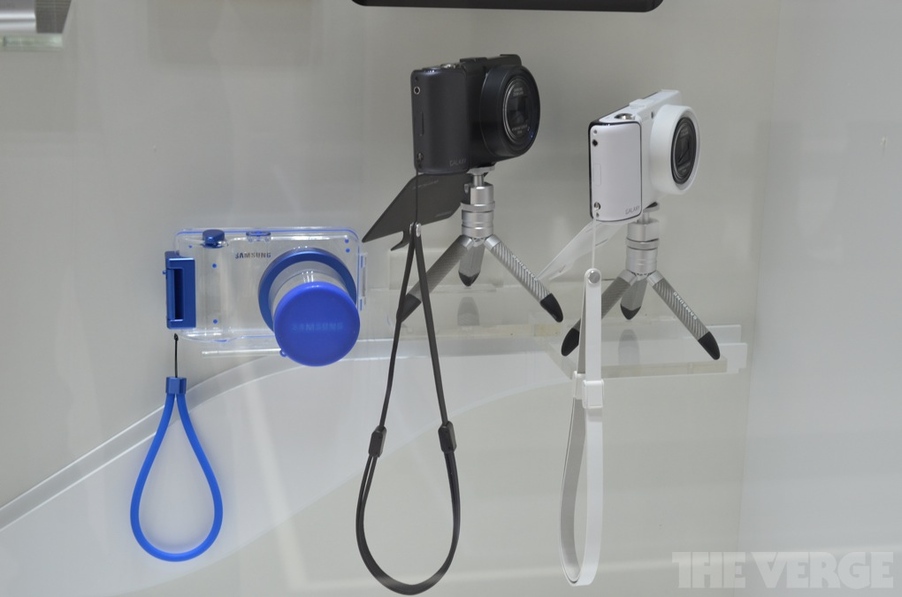 Camera case with a magnetic flap for the screen.
TAGS: Cameras, Accessories, Events, Android, IFA, Samsung, GALAXY, Kamakshi