A Bold Star Trek Doodle Graces Google's Homepage | TechTree.com
A Bold Star Trek Doodle Graces Google's Homepage
Anniversary doodle goes "where no doodle has gone before".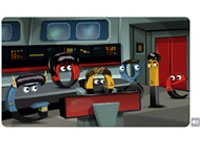 The original Star Trek series was first aired on 8th September, 1966. As a mark of respect for what was probably the most popular sci-fi franchise ever, the Google Doodle today"aims to boldly go where no doodle has gone before". The interactive animation is the story of the USS Enterprise, told through the Google logo.
By the looks of it, "G" represents Mr Spock, the red "O" is Nyota Uhura, while the yellow one is James T Kirk — the commanding officer of the USS Enterprise. Mashable.com reports that the doodle was released a day in advance so that users could play around with it and figure out the story, adding: "…a challenge that perhaps only true Trekkies will undertake". Since last year's celebrations saw a one-day delay, so this is probably Google's way of making it up to avid fans.

Did you get all the easter eggs and "inside" Trekkie references? If so, share it with us in the comments.