IFA 2012: Samsung Shows Off ATIV Tab With 10.1" Screen And Windows RT | TechTree.com
IFA 2012: Samsung Shows Off ATIV Tab With 10.1" Screen And Windows RT
Slate comes with 5 mp rear and 1.9 mp front cameras, huge 8200 mAh battery, and Office 2013; launch date and price unknown.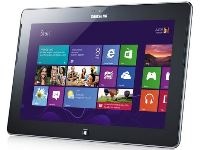 Samsung seems to be on a product-launching spree at IFA 2012, with the latest announcement being that of the ATIV Tab. This is the first tablet from the Korean electronics giant that employs Windows 8, with Lenovo already having announced its ThinkPad Tablet 2 a few weeks ago. Earlier this week, Samsung had registered the ATIV Tab and ATIV S trademarks, sparking speculation of a new series of products based on Windows 8 and its mobile version.

According to the press release, the name "ATIV" is the reverse of the word "vita", which means "life" in Latin, and "is a pledge by Samsung to make everyone's life extraordinary with excitement". Somebody should point out to them that by turning the word around, they are in effect reversing the flow of life, which just ends up being symbolic of death. Now there's a party-killing thought. I'm guessing Samsung couldn't simply use "VITA" since that would invite a lawsuit from Sony's PlayStation Vita, and the Korean manufacturer's probably had it up to here with court cases. Another probably factor that worked in favour of the name is that it's reminiscent of the words "8" (for Windows 8) and "active", which is again an indication of "life". Whatever. As long as the manufacturer makes products that work well and don't fail as soon as the warranty expires, I'll be happy. Here's the full specs list as per the press release:
1.5 GHz dual-core processor, 2 GB RAM.
10.1" HD LCD (1366x768, 155 ppi).
Windows RT, Internet Explorer 10, MS Office 2013 Home and Student editions.
5 megapixel auto-focus rear camera with LED flash, 1.9 megapixel VT camera.
32 \ 64 GB internal storage, 64 GB microSD card slot.
Video support: MPEG4, H.263, H.264, WMV9; Full HD (1080p) playback and HD (720p) recording.
Audio support: MP3, WMA, AAC, HE-AAC, PCM; 3.5mm ear jack.
GLONASS Assisted GPS, Bluetooth 4.0, USB 2.0 Host (supports external devices), Micro-HDMI, NFC.
Wi-Fi 802.11 a/b/g/n (2.4 & 5 GHz), Wi-Fi Direct (transfer files directly to other devices), Wi-Fi Channel Bonding.
Accelerometer, compass, Ambient light sensor, Gyroscope, Grip sensor.
10.5" x 6.6" x 0.35" (8.9 mm), 570 grammes.
Li-ion 8200 mAh battery.
The 8200 mAh battery is among the largest I've seen so far. Could this be an indicator that the new OS results in greater power consumption than its Android and iOS counterparts? We'll have to wait for a review unit to answer that one. The retail price and actual availability have not been announced, but like Lenovo's Windows 8 offering, the ATIV Tab will be launched along with or after the official release of Microsoft's platform. Until then, feast your eyes on the high-res product images in the gallery below.