Gujarat CM Narendra Modi Throws His Considerable Twitter Might Behind Protest Against Internet Censorship
Blacks out profile picture to express solidarity "as a common man" with the outcry against blocked Twitter accounts.
While some despise him as a mass murderer, his numerous loyalists praise him as a saviour. Either way, Gujarat Chief Minister and possibly Prime Ministerial candidate Narendra Modi is definitely a force to reckon with. Unlike fellow parliamentarians Shashi Tharoor, Sushma Swaraj, and the PM's office, he has used social media to his advantage, adding lakhs of netizens to his fan following. In his latest move, after the Indian government attempted to place a gag on its critics under the excuse of removing "communal" pages on Twitter, the BJP leader has add his social media might to the protests sweeping across the web.
After Twitter protest hashtags #Emergency2012 and #GOIBlocks started trending in the country, several users blacked out their profile pictures in support, and the CM soon joined the party. His post about the issue reads as follows, "As a common man, I join the protest against crackdown on freedom of speech! Have changed my DP. 'Sabko Sanmati De Bhagwan.' #GOIBlocks".

In related events, Monday is the last day for submitting a question you want to ask Narendra Modi. If your entry is selected, you get to chat with him on the 31st of August, which will also be broadcast live on YouTube.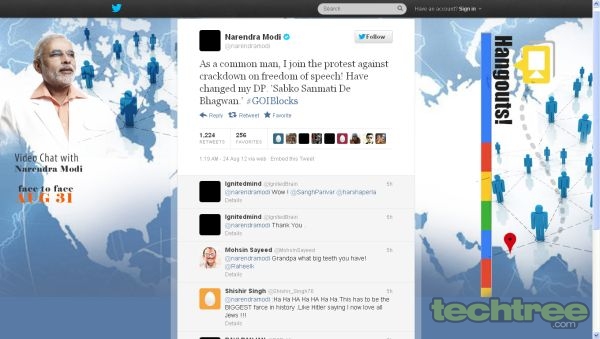 TAGS: Internet, Government, Security, Twitter, Kamakshi