Genius Launches Console-Camera Hybrid For Kids At Rs 4700 | TechTree.com
Genius Launches Console-Camera Hybrid For Kids At Rs 4700
The Heeha 700 features a 2.7" screen, 2 mp camera, and weird looks; has 38 titles of which eight allow replacing of game character's photo with yours.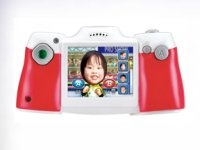 Genius has introduced a camera-cum-portable-gaming device for kids, called the Heeha 700. It comes preloaded with 38 games, out of which eight have been described as "photo games" — wherein players can snap their own picture and morph it onto the protagonist. As expected from a device of its type, the shape and looks of the console-camera hybrid are as zany as its features.

The Heeha 700 is powered by a 16-bit processor, which I'm sure kids won't complain about since they have no idea what "16-bit" means. It also has a 2.7" screen and 2 mp camera, which can also record video at 160x120 pixels. Not much to write home about, but again, it's unlikely that the kids will create a fuss. However, you will need an SD card to capture video, since the gadget has no usable storage as such. The menu navigation and gaming controls are taken care of by a D-pad and two buttons. Here's the list of detailed specs (not that much detail, really):
2.7" display with 16:9 aspect ratio.
16-bit CPU.
2 mp camera with 160x120 camcorder function and inbuilt mic.
64 MB internal memory, SD card slot.
TV-Out.
38 preloaded games.
Requires 3 x AA-size alkaline batteries.
Package contents: AA alkaline batteries, AV cable, Multi-language quick guide.
The Heeha is priced at Rs 4700, and comes with a one-year warranty. Check out the gallery for more product shots.